So long, and thanks for all the fish (and chips) – on leaving the UK
It's been a bit quiet here on the blog, but for a very good reason – I've moved! Not just house, but country. My husband and I had always said that "one day" we would move back to Germany, where he was born and where I grew up. In 2019, we decided that "one day" had now come and that the following year we would leave the UK. Obviously, fate had other things in store for us – there's nothing like a global pandemic for putting international removal plans on hold! However, by late 2021 we felt we were in a position to finally set things in motion.
I had been back in the UK for almost twenty years, and part of me did feel strange at taking the decision to leave. After all, even though I'm bilingual, English is my first and dominant language; I definitely identify as "British" (or even "English"); and even though I had lived in Germany from the age of nine, I had never actually worked there, so knew I would have to get used to a whole new and complicated way of running my business – let's just say there's a reason so many Germans have tax advisors! But on the other hand I hated being so far away from my parents, who still live in Germany, and from my husband's family; I missed the comparative (!) sanity of German politics; I missed the German quality of life. All of these pull factors only grew stronger over the two years in which Covid-19 made travel difficult to impossible – I wasn't like I could get a "quick fix" of Germany every couple of months.
House-hunting from abroad proved challenging, especially given the overheated property market in the area around Regensburg and Landshut, which is where we wanted to be for family reasons. However, we were very lucky to find a beautiful house out in the countryside in between our two "target" cities – just what we had been searching for! We were also lucky to find an amazing removal company thanks to a forum recommended by an ITI colleague who had made the move from the UK to Germany a couple of years previously. The UK's departure from the EU meant there was a vast amount of paperwork to complete and submit to customs ahead of the move, including an itemised list of all our belongings, measured and weighed, and (very expensive) health certificates for our two cats. Brexit truly is the gift that keeps on giving!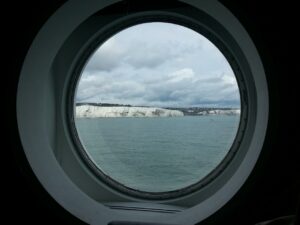 Removal day arrived on 1 April. All our possessions had been packed and the things we no longer wished to keep had been either donated or thrown out. The weather decided to play an April Fool's joke on us – for the first time that year we had snow! But our movers arrived punctually despite this, and within a couple of hours everything had been loaded into two vans and was headed for the coast. We had decided to stay an extra night with our neighbours and drive to the Dover ferry the following morning. The next day we set off at 6am, with two yowling cats in their carriers on the back seat of the car. It was still snowing! The traffic down to Dover was pretty bad, and the combination of a customs software failure, the P&O ferry debacle, and the bad weather meant the ferries were in chaos. But in the end, we did manage to get to Calais and then drove on through more driving snow to Belgium to stay the night with my sister near Liège. What a relief it was to arrive there!
The following day we drove on to Germany, finally arriving at our new house in the early evening. My parents were there to welcome us, and a delicious meal made by my mother was the perfect antidote to the worry and stress of the previous days. The day after, my mother-in-law and sister-in-law came to help us unpack – it felt just wonderful to have this kind of support so close again!
Since then, we've been busy settling in and adjusting to life in a country where many things are deeply familiar and other things are completely new. I'm still in the process of registering my business here, so am not "officially" back at work yet. But I am taking advantage of being in Germany and will be attending two fantastic CPD events held here in the next two weeks (reports soon to follow on the blog)! I hope to start making the most of opportunities to meet local colleagues in the coming months, too.
So far, I haven't missed the UK itself at all, although of course I do miss my lovely friends, neighbours, and colleagues there (and fish and chips). In many ways, things actually feel a lot easier here – I don't think I had fully appreciated what a difference it would make to have family close by. I expect as time passes, I'll get a better sense of the impact this move will have on my identity and languages (which are deeply intertwined, of course). I'm deeply grateful to be here after two years of waiting, and particularly grateful that it was a move I chose voluntarily – that's a privilege only few people have, something of which I became vividly aware when waiting at the local government office to pick up my residency permit, surrounded by Ukrainian refugees.